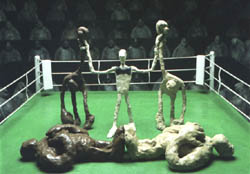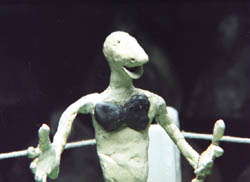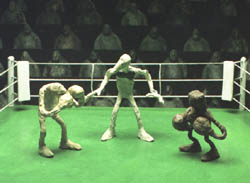 See the fragment (1,2 Mb)



«BREAK» 1985. «SMF» film studios, color, plasticine, 287 m.,10 min. 29 s.

Musical parody a mockery of unsportsmanlike tricks and ploys, played by professional boxers to win.

First Prize for original conception and screen expression, Tenth All-Union Festival of Sports Films, 1985. «Golden Dove» ICF of documentary films, Leipzig (Germany) 1986.
Special Prize of Jury, Prize of TV IF of sports films in Rennes (France)1986.
Jury Prize and Audience Prize at ICF in Stuttgart (Germany) 1988.
Diploma of ICF in Zagreb (Jugoslavia) 1988.
Gold Medal of All-Union Festival in Riga, 1986.